Outdoor Hotel Furniture in the UAE: A Guide To Selecting The Right Fit For Your Hotel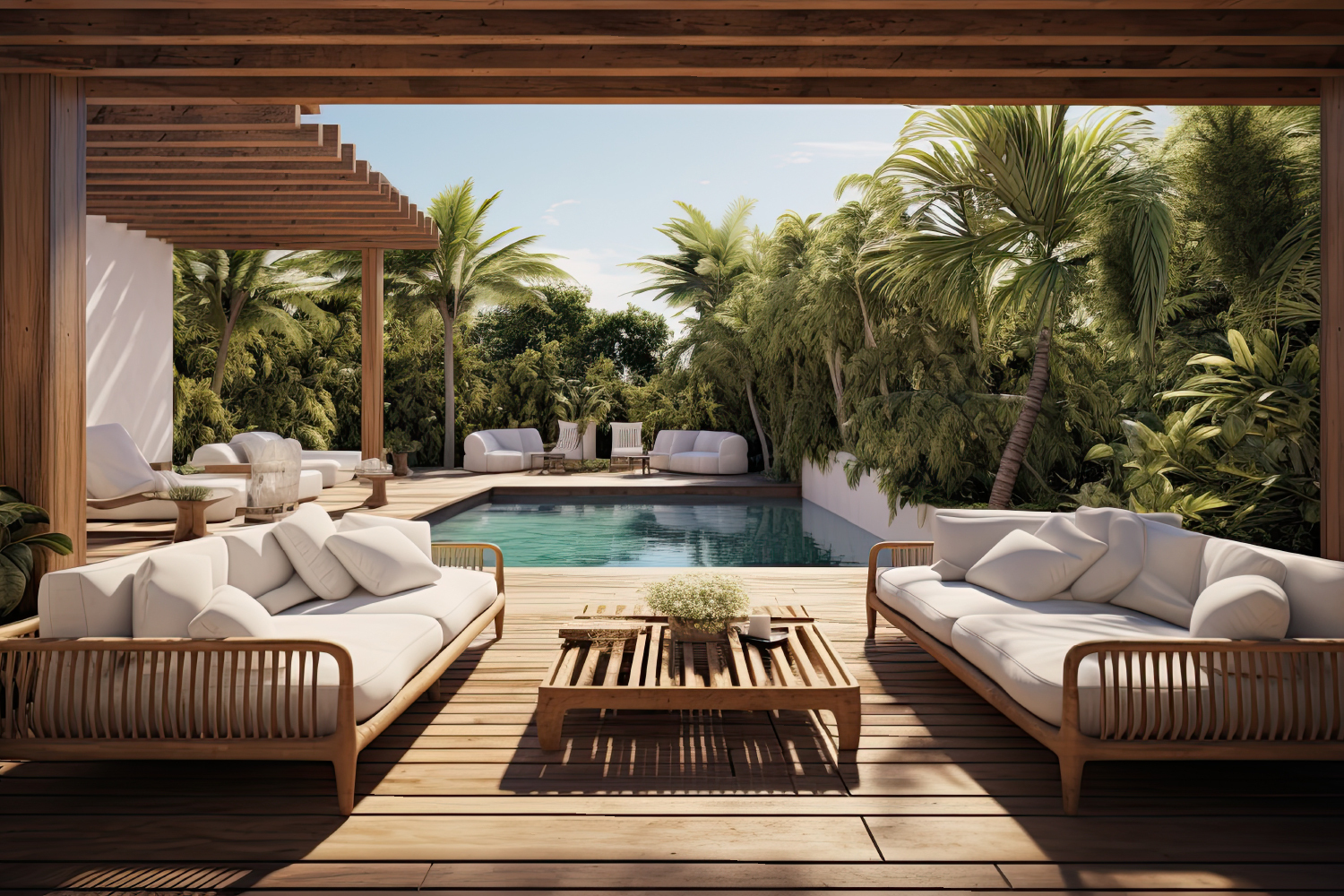 Introduction
Outdoor spaces in hotels significantly enhance the guest experience. A well-designed patio or poolside can provide guests with the luxury and relaxation they seek. Choosing the right hotel furniture can leave a great impression on your guests, but choosing wrongly could lead to extra expense and a less-than-ideal guest experience. In the UAE and the Middle East, with its long days of hot sun, high humidity, and sand, choosing the right outdoor furniture material becomes vital. This guide aims to explore materials best suited for the UAE climate and offers tips on how to maintain them for extended life.
Key Considerations for Outdoor Furniture Materials in the UAE
Selecting outdoor furniture for the UAE goes beyond just aesthetics. It's essential to consider the following factors to ensure your hotel and your guests are getting the most suitable furniture for their stay.
Durability

The material must withstand consistent sun exposure and occasional sandstorms whilst still providing years of reliable service and maintaining its appearance.

Comfort

Regardless of the heat and outdoor environment, furniture should remain comfortable to the touch and pleasurable to use. There's little point in a piece of furniture that looks the part but is uncomfortable to use when the sun comes out or falls over when the wind blows.

Look and Feel

The chosen furniture should be a reflection of the hotel brand, either echoing the opulence and luxury synonymous with many hotels in the region or choosing a younger, more contemporary look if that matches your brand aesthetic.
Top Recommended Materials for Outdoor Furniture in the UAE
The choice of material used for your hotel furniture is key for ensuring consistency, quality, comfort, and durability of your hotel furniture. Below we provide some options and discuss some of their characteristics.
Teak
An enduring favorite for outdoor furniture in the UAE, teak's natural oils make it resistant to decay and pests. Its dense grain does not warp easily, even under the sometimes scorching UAE sun. While it might be pricier than some alternatives, its longevity makes it a worthy investment. However, as with all furniture, teak requires regular treatment to maintain its good looks and weather resistance.
Natural rattan or wicker is unlikely to fare well in the UAE's harsh climate. However, synthetic versions, crafted from durable plastics, mimic the classic look while being much better suited to the climate, as they are weather-resistant, longer-lasting, and retain their look well over time.
Metal (Aluminum, Stainless Steel)
Metals like aluminum and stainless steel are rust-resistant and maintain their structure in the heat. They can be combined with plush cushions for added comfort. The key is to ensure they are treated regularly and appropriately using quality products to resist the aggressive saline environment, especially in coastal areas.
UV-Resistant Plastics and Resins
Modern plastics and resins designed to resist UV rays are excellent choices for the UAE's sunny climate. They don't fade easily and can endure the daily onslaught of sun, making them ideal for poolside loungers or dining sets.
Importance of Fabric Choices
The fabric plays a pivotal role in outdoor furniture, both in terms of comfort and durability. For the UAE, solution-dyed acrylics or high-quality polyester fabrics are recommended. They resist fading, dry quickly, and are easy to clean, providing guests with comfort without compromising on style.
Treating and Protecting Outdoor Furniture for Extended Life
Even the most perfectly suited furniture for your hotel will fail over time if it is not properly and regularly maintained. Here are some tips for keeping your furniture in the best condition and delighting your guests for years to come.
Regular Cleaning
Sand and dust, prevalent in the UAE, can scratch and wear down the surfaces of outdoor furniture. Regular cleaning, appropriate to the material type, can help maintain the furniture's appearance and longevity.
Protective Sealants
Especially beneficial for wooden and metal furniture, sealants create a protective layer against UV rays and moisture. They can prevent fading and wear, and significantly extend the life of the furniture.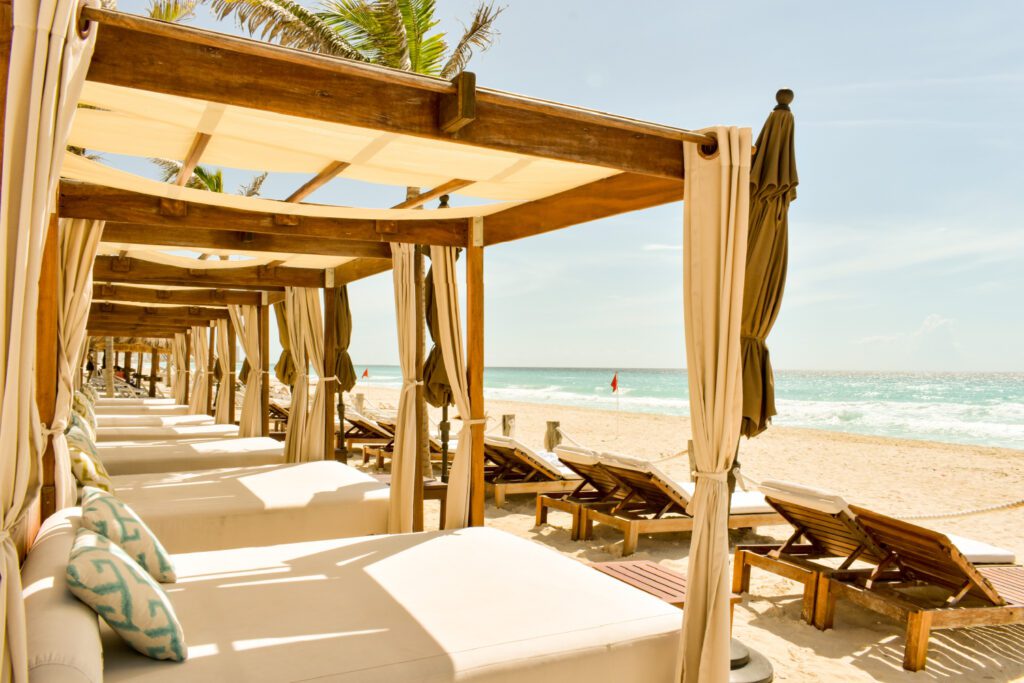 Direct sunlight is often detrimental to outdoor furniture in the UAE. Implementing shade solutions like umbrellas, pergolas, or gazebos not only ensures guests' comfort but also provides furniture with a respite from the strong sun.
Protective Covers
During off-peak seasons or imminent sandstorms, protective covers can be a very useful piece of equipment in the hotelier's toolbox. They shield furniture from the elements, ensuring they remain in pristine condition when the guests are ready to use them again.
Sustainability and Responsible Sourcing
Today's discerning guests are increasingly eco-conscious. By opting for environmentally friendly materials, hotels not only contribute to a greener planet but also enhance their reputation among guests. Whether it's sustainably harvested wood or recycled plastic, responsible sourcing can make a difference to your hotel's reputation whilst maintaining the all-important look and feel of quality and durability.
Conclusion
Outdoor furniture is an investment. In the luxurious landscape of the UAE's hospitality industry, it's imperative to choose materials that deliver durability without compromising on style, quality, or comfort. Given the unique challenges posed by the region's climate, careful selection in combination with regular maintenance can ensure that the furniture remains a credit to the hotel's commitment to luxury and guest satisfaction.
Looking for the perfect outdoor hotel furniture tailored for the UAE's climate? Speaks to us here at Royse about our latest collections, where luxury meets durability. Experience a harmonious blend of aesthetics, comfort, and longevity, ensuring your guests relax in luxury with every visit.